June 1, 2011 – Atlanta, GA USA – Would you like your marketing campaign to take-off like a rocket in 2012?
Smoke-n-Thunder Jet Shows (Braack Motorsports, Inc.) has retained Atlanta-based GREAT! agency as the exclusive marketing agent for integrated marketing sponsorship packages for Braack's 400 mph Rocket Car performances at 20 Air Shows in 2012.
More than 7 million Air Show enthusiasts annually experience the Rocket Car accelerating its more than 10,000 horse power J34 jet engine (from a T-2A Buckeye military aircraft) to a crowd-pleasing 400 mph (without leaving the ground) – in just nine seconds – racing (and often beating) an aircraft (that has a heads start).
Then, a 14′ double-ringed military-style Rocket Car parachute deploys – producing up to 14g's of negative force to the pilot – brings the Rocket Car to an abrupt stop to cheering crowds. The Rocket Car 2012 sponsorship opportunity is unique: the Rocket Car is the only land performer at the 20 Air Shows it performs in annually.
Air Show attendance continues to soar above other national sporting events with 10-12 million spectators attending Air Shows in the United States annually: shows that are often free.
Braack Motorsports President and Rocket Car Pilot Bill Braack (retired Air Force 20-year C-130 and C-141 Air Force and Air Force Reserve Veteran) works the revved-up crowd – prior to each Rocket Car versus aircraft race – from his Rocket Car cockpit commanding all eyes on the Rocket Car as he slowly drives the Air Show flight line, generating:
a roar of multiple near-sonic boom thunder-claps;
three-story billowing clouds of smoke; and
30′ shooting flames from the Rocket Car's afterburner.
"America loves the thrill of racing meets Air Shows. And I'm thrilled that GREAT! is the exclusive marketing agent for the Rocket Car performances at Air Shows across America," says Braack. "We seek A-List brands – and their agencies – brands that can benefit from sponsoring the 2012 Rocket Car tour at 20 Air Shows to reach more than 7 million engaged fans," said Braack.
In contrast, USA Today estimated that all annual NASCAR races combined in 2010 would be 3.6 million: that's 1 million less than in 2003. NASCAR race attendance is nearly half the estimated annual attend of a 20-market annual Rocket Car Air Show tour. And, unlike NASCAR with 40+ cars on the track at one time; all eyes (and ears) are exclusively devoted to the Rocket Car. [The attendance for the entire National Hot Rod Association (NHRA) season attendance equals about two Rocket Car Air Shows, according to Braack.]
"The sky's the limit for creating and marketing efficient on-brand; adrenaline pumping experiential; integrated entertainment sponsorship packages leveraging the Rocket Car at U.S. Air Shows," said GREAT! CEO & Chief Creative Officer Dan Smigrod. "There are many terrific opportunities – such as product sales, sampling, lead generation and social media on steroids – that the Rocket Car can help sponsors activate and engage consumers; while firing-up marketing plans at near super-sonic speed in support the brand's distribution channels such as – retailers, grocery stores and drug stores. With hundreds of Air Shows annually in North America, the title sponsor can pick and choose Air Show markets strategically."
"We also include VIP money-can't-buy-experiences. For example, Sponsor's VIP guests get to flag-start the race between the Rocket Car and an aircraft racing just 100 feet above the  Rocket Car. It's a heart-pounding experience as the Rocket Car accelerates to 400 mph and an aircraft with 180 mph head start – rockets past the VIP just yards from their whirling green flags to signal the start of the race," said Smigrod.
"Flag starting the race on the runway starting line is an over-the-top, unique, thrilling and exciting experience to offer a VIP client guest or winner of an internal sales contest. With 20 Air Shows annually, 120 VIPs get to flag-start a race and 360 guests annually experience the adrenaline rush just feet from the flag-starter. Plus, new in 2012, thousands of VIPs will get to experience the Air Show from the Sponsor's Rocket Car chalet," said Braack.
With 6,500 pounds of 3:1 thrust-to-weight ratio at 4.5 g's, the Rocket Car accelerates faster than any jet in an Air Show; including U.S. Navy Blue Angels and the U.S. Air Force Thunderbirds jets. If the 2,250 lb. Rocket Car was stood on its tail, it has enough raw-power thrust to take-off like a rocket, according to Braack.
Integrated sponsorship marketing opportunities to activate and engage audiences experiences during the typical three-day, eight-hour-per-day experience include:
Social Media
Experiential
Sampling
Lead Generation
Product Selling
Publicity
VIP Experience
Military Activation
Pro-Social
Specific Rocket Car marketing legs include:
Exclusive performer re-branding naming rights
Sampling; couponing (and product selling)
VIP Chalet shaded seating on-the-flight-line
One-on-one experiences with the Rocket Car Pilot
VIP flag-start the race (and accompany the flag-starter)
VIP fly-alongs on media/rehearsal day
Trade and consumer TV/print/radio media interviews (fly-alongs for media on media day to film the Rocket Car from the air)
Pro-Social (at Sponsor's option: Air Shows at military bases only)
Air Show enthusiasts photos and videos of the Rocket Car for their Facebook, YouTube and flickr accounts
Social media engagement with Rocket Car Pilot Bill Braack
Media interviews with Rocket Car Pilot Bill Braack
Retailer, drug store and grocery marketing extension opportunities
Media buy integration opportunities
Unique contest and sweepstakes prizing opportunities
Internal and external sales incentive (with money-can't-buy VIP experiences)
Eco-green/sustainability integration – the Rocket Car can run on biodiesel B20 fuel (20 percent recycled cooking oil) [when/where available]
Rocket Car-Cams – video showing the Sponsor's branding: including inside the 14′ parachute
Public Address (PA) announcements during the Rocket Car Air show performance, in particular, and through-out the day
Official Air Show program
Official Air Show map
Official Air Show poster
Official Air Show advertising
Official Air Show Welcome Party for Performers (and their guests) – and other private events
"Rocket Car Pilot Bill Braack is the ultimate media-savvy spokesperson: well spoken; articulate; a 20-year (retired) airman veteran that can integrate client 'talking points' into his media interviews," says Smigrod. "The Discovery Channel Daily Planet six-minute (11/1/10) segment is an excellent example of Bill and his Rocket Car generating TV coverage."
In 2012, local market TV coverage – and newspaper and social media coverage – will leverage all Sponsor branding, including the:
"Between our decades of Air Show and military expertise – and the nearly 25 years of GREAT! agency entertainment marketing experience – our combined teamwork creates a win-win-win opportunity for brands – and their agencies – with the Rocket Car (presently doing business as the Smoke-N-Thunder Jet Car Shows) and Air Shows across North America," says Braack.
The International Council of Air Shows (ICAS) estimates that 10 to 12 million people annually attend one or more of the 325-350 Air Shows in the U.S. and Canada. ICAS reports a 20 percent spectator growth trend during the 2008 and 2009 Air Show seasons and that this trend is forecasted to continue in annual Air Shows in the next couple of years.
The Rocket Car typically participates in the larger Air Shows – often at military bases – that are frequented by:
"After more than 4,000 performances since 1980, the Rocket Car has a 100 percent safety record," says Braack. "Plus, since current safety procedures have been put in place, no spectators fatalities have happened at a North American Air Show since 1960: an enviable safety-record for any business."
For Rocket Car sponsorship opportunities – including an exclusive Rocket Car "buy out" for the 2012 Air Show season – please contact GREAT! CEO & Chief Creative Officer Dan Smigrod:
For the 2011 Rocket Car performance tour schedule, please visit the Smoke-N-Thinder Jet Car Shows official website: www.smoke-n-thunder.com/ The 2012 Rocket Car performance tour schedule will be determined in conjunction with the 2012 title sponsor of the Rocket Car.
Short URL For This Story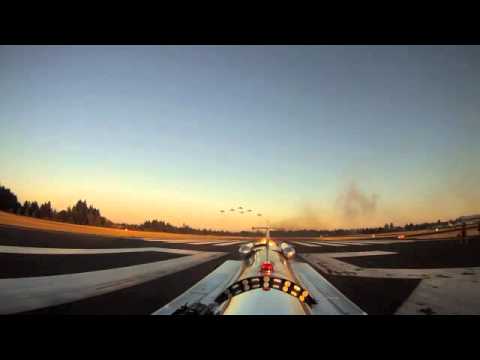 Video: Six Jets Flying in Tight Formation – flying just fee above the runway — race the Rocket Car at 350 mph in this :45 video shot at the Oregon International Air Show on Friday, August 19, 2011.
Video: PencilCam video of the Rocket Car at NAS Patuxent River, MD [Rocket Car racing the airplane starts at 3:40 into the video]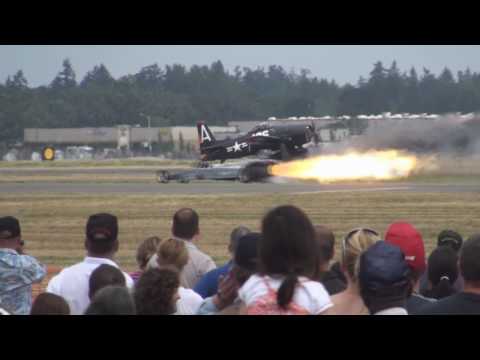 Video: Rocket Car at JBLM Air Expo 2010